Foundation Wall Waterproofing Company Serving Yorktown, Williamsburg, Richmond & Surrounding Area
Basement and foundation wall waterproofing protect your home from moisture damage.
Although it's possible to waterproof basements and foundations of existing structures, once the soil around your home is filled in, making any improvements to its exterior walls can be very costly, so building your basement right the first time is vitally important.
TUFF-N-DRI Basement Waterproofing Systems can help you get your basement right the first time.
Damp-proofing doesn't guarantee a dry basement; it can crack and allow water to seep through the foundation.
Unlike many damp-proofing products, TUFF-N-DRI will not break down as a result of prolonged contact with water and soil.
The TUFF-N-DRY System consists of two components: TUFF-N-DRI waterproofing membrane and WARM-N-DRI drainage and insulation board.
This powerful combination teams up to control the main sources of moisture from basement walls. The rugged TUFF-N-DRI membrane seals out water leaks and seepage. The WARM-N-DRI foundation board insulates basement walls on the outside - the key to reducing condensation on the inside.
Analysis of home energy use indicates that a considerable portion of a typical home's energy loss comes from heated, uninsulated basements. By installing the foundation board to the sill plate, the entire basement wall is insulated, and energy efficiency is maximized.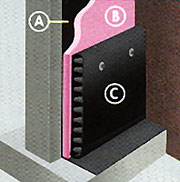 TUFF-N-DRI can help keep your basement space more comfortable and energy-efficient for the long term.
A: A flexible waterproofing membrane is spray-applied to seamlessly span foundation wall, settling cracks and sealing out water penetration.
B: WARM-N-DRI Foundation Board assists drainage and insulates basement walls to reduce interior condensation.
C: Shown with optimal DrainStar Stripdrain instead of drain tile and gravel.


An additional option to TUFF-N-DRI waterproofing is the EZflow system.
EZflow systems provide everything you need to solve the toughest drainage problems.
They are made of tough lightweight, geosynthetic aggregate that is encapsulated with strong netting around a 3" or 4" drainpipe.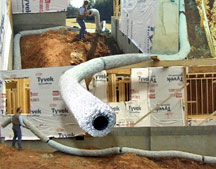 Use EZflow for:
Foundation Drains: eliminate the need for gravel and meet all building codes
Rainwater Run-off: provide collection beds to percolate rainwater into the soil
French Drains: control ground water
Landscaping: less site disruption
Retaining Walls: reduce hydraulic pressure by removing ground water quickly.
EZflow will not crush, will not degrade and will not break down.
Looking for a price? Get a no cost, no obligation free estimate.