Basement Flooding Solutions in Glen Allen, Midlothian and Nearby in Greater Richmond
What causes basement flooding and how to prevent it
If your basement flooded once, it can happen again. Fortunately there's a lot you can do to prevent a flooded basement. That's where we come in. As a basement waterproofing company, The Drying Co./ThermalTec offers basement flood prevention and waterproofing solutions that will ensure that your basement stays dry.
There are few things that can cause more damage to a home than a full-scale basement flood, especially if you have a finished basement. Plumbing failures and severe weather are the most common causes of flooding, which is why it's essential to be prepared.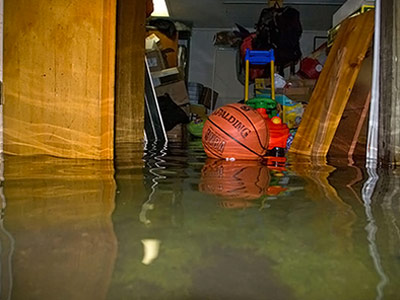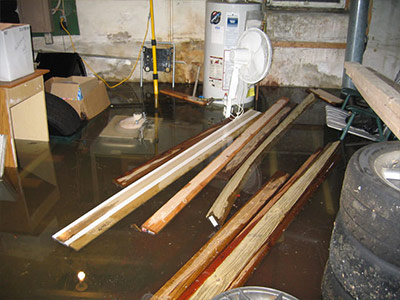 Call us today at 1-833-933-3111 or click below to learn more about how we can help you solve your basement flooding problems. We offer free estimates on all our services in Williamsburg, Richmond, Henrico and the nearby areas.
---
Common basement flooding problems
Basements can flood from a number of areas, including: wall cracks, floor cracks, leaking or burst pipes, leaking windows, hatchway doors, sump pump failure, and water heater failure.
Prevent flooding through basement stairways and hatchway doors
Hatchway entrances leak from three critical points: underneath metal hatchway doors, where the hatchway and foundation meet, and through cracks in the concrete.
No matter how water is flooding into your home from the hatchway doors, our TrenchDrain™ Hatchway Door System is a great way to keep it out of your basement space. The TrenchDrain™ is designed with a half-round pipe section, with a grated top fitting. When installed, it's flush with the rest of your concrete floor for a clean, professional job.
The TrenchDrain™ is meant to be used as part of an existing perimeter drain system. It spans the staircase, collecting water that spills down and directs it to your drain and sump pump system. This system can span the entrance of the hatchway, or can be extended inside the hatchway itself.
Preventing flooding from plumbing failures
When your home experiences a plumbing failure, it can damage carpet, drywall, appliances, and stored personal possessions. The mold that follows a flood can create allergens that can lead to serious long-term health effects.
Unfortunately, it's not possible to prevent all pipes, toilets, sinks, tubs, faucets, and other pieces of home plumbing from ever experiencing a leak. However, there are some simple, effective solutions for the most common plumbing failures that occur.
At The Drying Co./ThermalTec, we offer industrial industrial-grade FloodCheck® Hoses to replace old washer hoses that are at risk of bursting open from constant water pressure. We also provide sump pump alarm systems that alert you when a flood occurs, as well as our FloodRingTM Water Heater Flood Protection System to protect your home from water heater floods. The FloodRing® system includes a 4" PVC ring that's designed to collect water from your water heater, where it is then directed to your perimeter drain.
Combine the FloodRing™ with our WaterWatch® Alarm, which is placed inside of the ring for added protection. Like our sump pump alarm, it will sound off if it detects water, and can also be hooked up to some home alarm systems.
Protect your home from a basement flood today
At The Drying Co./ThermalTec, we have basement waterproofing products to solve all of these problems.
Perimeter drainage systems
Doorway drainage systems
Sump pumps
Waterproof wall and floor products
Wall and floor crack repairs
Replacement windows
Water heater flood protection
Frozen discharge line prevention
Our installations include a written, transferable warranty that will provide you with long-lasting peace of mind.
If you have ever had a flood in your basement or are concerned about one, the local experts at The Drying Co./ThermalTec are here to help with the basement flood prevention solutions you need! We provide complete basement waterproofing services, and our experts will help you identify the best solutions for your home.
Call us today at 1-833-933-3111 or contact us online to learn more and get started with a free estimate! We proudly serve in Richmond, Williamsburg, Henrico, Midlothian, Newport News, Toano, Chesterfield, Mechanicsville, Yorktown, Hampton and throughout the surrounding areas.
Looking for a price? Get a no cost, no obligation free estimate.