Home
»
Crawl Space Insulation
Crawl Space Insulation Services in Greater Richmond, Henrico, Williamsburg, Richmond
Insulation in your crawl space makes the floors above it warmer
Crawl space insulation and air sealing are more important than most homeowners think. Without it, the result is discomfort and energy bills that are higher than they should be. Sound familiar?
The Drying Co./ThermalTec seals and insulates crawl spaces using spray foam or rigid foam insulation, along with a vapor barrier. This proven method can give you greater comfort while lowering heating and cooling bills and preventing mold, moisture, and pest issues. Call 1-833-933-3111 or click below to request a free estimate for crawl space insulation in Richmond, Williamsburg, Henrico, and the surrounding areas.
Before and After Crawl Space Insulation Jobs
Before

After

Crawl Space Vapor Barrier in Beaverdam, VA

With concerns about the moisture damage in their crawl space, this Beaverdam, VA client oped to encapsulate their crawl space to help protect it from future damage.

In this phase of the project, we've treated the microbial growth on the floor joists and a heavy-duty CleanSpace Vapor Barrier has been installed. The liner is overlapped at all seams, wrapped and sealed around all piers, and mechanically attached to the foundation walls. The Foundation vents have also been sealed to prevent outside air carrying moisture from pouring into the space.

Before

After

Keeping moisture out of a Beaverdam, VA Crawl Space

All crawl space vents, the sill plate, and any penetrations to the outside through the foundation walls are all sealed. The rim band is insulated and sealed with spray foam insulation to stop air infiltration, which can also help with drafts in the first level of the home. The crawl space is also sealed off from the earth's moisture with a CleanSpace vapor barrier, which is sealed at all seams, wrapped and sealed around all piers, and attached and sealed to the foundation walls. All of these steps are taken to keep as much moisture out of the crawl space as possible so we can control the relative humidity and protect the substructure of the home.

Before

After

Crawl Space Repair in Doswell, VA

This Doswell, VA homeowner reached out to us after noticing issues with their crawl space insulation. Upon inspection we found that the insulation was damaged by moisture and falling away from the floors, there was microbial growth on the floor joists, and signs of moisture infiltration on the liner.

Simply replacing the insulation would mean that the homeowner would incur the same issue in a few years and need to replace the insulation again. We needed to address what was causing the insulation damage. We removed all of the debris and old material, treated the mold and mildew growth with an antimicrobial, installed a CleanSpace Vapor Barrier, air sealed the crawl space, and applied an R-10 of closed-cell spray foam to the foundation walls.
---
Why fiberglass insulation in the crawl space is bad
A common way to improve comfort and save energy in a home built above a crawl space is to insulate the crawl space with fiberglass batts installed between the joists and vent the crawl space to allow outside air to circulate beneath the home.
The problem is that moisture from your crawl space moves upward into the living area of your home. As this happens, the fiberglass between your floor joists absorbs moisture and becomes soggy and heavy. This will cause the insulation to lose its R-value. Not only that, but the wet fiberglass batts can fall and cause mold growth and rot.
A damp crawl space won't just cause damage below the home. As much as 40% of the air you breathe in your upstairs living area comes from the basement or crawl space. This means there's a high risk for poor air quality from airborne mold spores. These are serious problems.
---
How we can insulate and improve your crawl space
If you have cold floors, high heating, and cooling bills, or uneven temperatures throughout your home, we have the solutions to help solve your problems.
Insulate crawl space walls and floor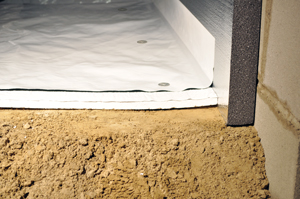 SilverGlo on crawl space walls and TerraBlock on crawl space floor.
To get the most comfort and energy savings benefits possible, you need insulation that performs well in a damp environment. That's why we insulate crawl space walls and the rim joist with SilverGlo rigid foam insulation and not fiberglass.
Unlike fiberglass insulation, rigid foam won't absorb moisture, lose R-value, or encourage mold growth. It also won't compress or fall out of place. SilverGlo also had a radiant barrier, which reflects heat back into your crawl space for ultimate energy savings. Although fiberglass is one of the cheapest insulation materials, having to rip it out and replace it will cost you more in the end. Insulating the crawl space floor is also an option and can help reduce heat loss. We insulate dirt crawl space floors with TerraBlock foam insulation.
Seal the crawl space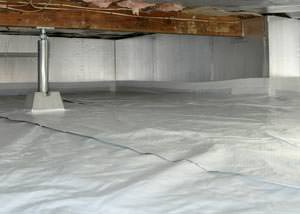 Crawl space sealed with the CleanSpace System.
To reduce moisture and relative humidity in the crawl space, we install the CleanSpace liner over the crawl space walls and floors, isolating your home from the earth. The rim joist is sealed with either spray foam insulation or foam boards to keep out unconditioned air and prevent condensation. Any remaining moisture can be removed with a crawl space dehumidifier. When combined with air sealing and dehumidification, the CleanSpace vapor barrier will eliminate mold growth and rot from your crawl space and make the whole house healthier. If you have a wet crawl space, we offer products to solve water leakage and can recommend the right drainage system for your situation.
---
Insulate your crawl space the right way; reap the benefits throughout your home
If you're going to insulate your crawl space, make sure you get a solution that will make your entire home healthier and more comfortable. The Drying Co./ThermalTec installs proven insulation products for the crawl space (and basement).
Contact us today to schedule a consultation and estimate - we'll assess your crawl space and recommend the best solution for your home! We offer complete crawl space insulation services in Richmond, Williamsburg, Henrico, Newport News, and surrounding areas.