Crawl Space Sealing in Greater Richmond
Why a Sealed Crawl Space is the Way to Go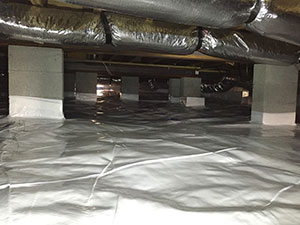 Research results indicate that a sealed crawl space is a great moisture control strategy with impressive energy saving potential, as reported by Advanced Energy.
As opposed to what many building scientists believed years ago, new research has shown that vented crawl spaces create the perfect environment for mold growth, wood rot, insects and moisture problems.
A sealed crawl space is the perfect defense against these detriments, and has proven to also create a healthier living environment and reduce energy costs.
How a Sealed Crawl Space Works:
First, any outside moisture entering the crawl space is eliminated. Rainwater is prevented from entering the crawl space with the use of gutters and downspouts.
A foundation drain system is then used to control ground water. If the outside grade is higher than the the inside grade, waterproofing the exterior of the foundation is done.
Next moisture from the ground is eliminated. A heavy-duty crawl space vapor barrier is used to cover the soil floor, walls and pilings.(Read more about crawl space moisture control here).
All openings to the foundation exterior are sealed, and gaskets are installed around access doors.
Insulation is applied to the foundation walls, band joists and access doors.
Finally, a dehumidification system is installed to reduce the levels of humidity in the air and remove moisture in your crawl space.
Since the natural airflow in a home is from bottom to top, the air that is circulated back into the home from the sealed crawl space will be clean, dry air, creating a healthier environment.
Additionally, the air circulating back into the home is now conditioned air, reducing the need to heat or cool it, resulting in lower energy costs.
Looking for a price? Get a no cost, no obligation free estimate.